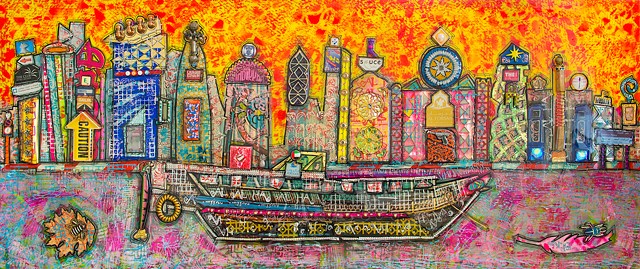 Here is a sampling of a new range of Emily's art. She calls them LITTLE GEMS. They are 25cmX25cm and sell for AED 1200.00 each. Emily's startlingly modern and colorful sculptures consist of multiple layers of acrylic paint, interlaced with paraffin, resin, gold and silver leaf. This contemporary art form achieves remarkable visual depth which has the simultaneous effect of mesmerizing and thrilling the observer.
Emily personally developed this unique style of art, a form of multi-media, which progressively evolved through years of extensive experimentation until she finally found the final technique that she finds satisfying. This collection of paintings consists of Emily's trademark Arabic doors and minimalist designs.
Having lived for over 37 years in the Middle East, Emily admits a fascination for the sensual shapes, colors and designs of Arabic, Moorish and Byzantine architecture, and communicates this passion through her work.
Emily's paintings can be found enhancing palaces, villas, corporate offices, hotels, homes, an installation aboard an executive jet and "The Club".