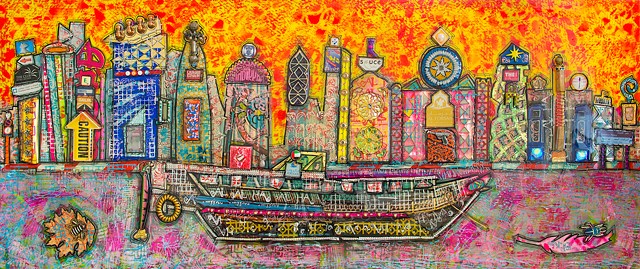 Here is a sampling of a new range of Emily's art. She calls them LITTLE GEMS. They are 25cmX25cm and sell for AED 1200.00 each. Emily's startlingly modern and colorful sculptures consist of multiple layers of acrylic paint, interlaced with paraffin, resin, gold and silver leaf. This contemporary art form achieves remarkable visual depth which has the simultaneous effect of mesmerizing and thrilling the observer.
Emily personally developed this unique style of art, a form of multi-media, which progressively evolved through years of extensive experimentation until she finally found the final technique that she finds satisfying. This collection of paintings consists of Emily's trademark Arabic doors and minimalist designs.
Having lived for over 37 years in the Middle East, Emily admits a fascination for the sensual shapes, colors and designs of Arabic, Moorish and Byzantine architecture, and communicates this passion through her work.
Emily's paintings can be found enhancing palaces, villas, corporate offices, hotels, homes, an installation aboard an executive jet and "The Club".
Art Commissions and Exhibition History (Abu Dhabi, UAE)
iAM International Art Management
Spearheaded the formation of an international art management company along with two other dynamic women; Cherry Ali, an experienced UAE curator and Liz Totton, a highly respected Middle East journalist and public relations expert.
Most recent iAM exhibitions:
2019 Sofitel (The Palm Dubai)
2018 and 2019 Sofitel Abu Dhabi
2018 and 2019 Hyatt Capital Gate rebranding. The new Anzac Hotel has been established an art gallery and boutique art shop in which we have been the sole curators.
2018 and 2019 Fairmont Hotel Bab Al Bhar, Abu Dhabi.
2012 through 2019 Artist in Residence at the Fairmont Hotel. I was asked by the hotel G.M. and owner's representative to design and develop a gallery exhibition space to feature regional contemporary artists. Typically exhibited in this space for three months per year.
2018 Participated in 5-day World Art Dubai Exhibition.
2000 through 2019 UAE Exhibitions
Fairmont Hotel, Abu Dhabi
Etihad Gallery, Abu Dhabi
Majis Gallery, Dubai
One and Only Royal Mirage, Dubai
Grand Hyatt, Dubai
National Theater, Abu Dhabi
Emirates Palace Hotel, Abu Dhabi
Cultural Foundation, Abu Dhabi
Ghaf Gallery, Abu Dhabi
Bab Al Qasr Resort, Abu Dhabi
Sharjah Museum (Women in Art)
The British Club
Yearly Open Studios
Sofitel Hotel, Abu Dhabi
Andaz Boutique Hotel, Abu Dhabi
Pending:
2019
Fairmont Hotel Abu Dhabi
Commission work:
Executive Jet Fixed Base Operator lounges in London & Paris
Hotel Project
2005-2018
Multiple hotel projects that have included limited edition, signed prints (up to 600 pieces) and original art work for VVIP Suites.
2017-2018
Iconic restaurant refurbishment in Doha, Qatar required 24 original paintings based on Qatari culture.
Company Headquarters, Boardrooms and CEO offices
2000-2019
Projects have included Raytheon, Abu Dhabi Water & Electric Co., Royal Jet, Financial institutions including the sovereign wealth fund, Cleveland Clinic Abu Dhabi, Kuwaiti Hospital, Houston, Texas corporate offices of Universal Weather and Aviation.
Gulf Air Airport Lounge
American Community School, Abu Dhabi
New York University, Abu Dhabi
26 original art paintings for new corporate offices in Milan, Italy for Piaggio Aircraft, a Mubadala company.
Fun projects:
VVIP corporate airplane (Boeing 727)
A Mediterranean based Super yacht
Sale of 20 to 60 small original art pieces that were VIP presents to foreign dignitaries, ambassadors, global CEOs, GCC Leaders and Royal Families, International sports legends, Estuary Auction House, Abu Dhabi.
Designed and manufactured VIP Limited edition Gifts such as silk-chiffon cushions, and scarves:
Sold 6 original art images for their limited use.
Donations of original art for charity auctions:
Yearly donation to Breast Cancer
Employees of The Club
Animal Rescue of Abu Dhabi
Off Shore Sailor's Charity
Future Center, Abu Dhabi based children's charity
Worked with interior decorators and designers around the world:
Deconsecrated church in Medellin, Colombia. Specifically, artwork to replace the church cross in the main chapel for an Architectural Digest writer's second home.
Loft conversion in Brisbane, Australia
Bed & Breakfast in Portugal
Rental villa and apartment on Cyprus
Artwork for a listed (Grand Design Show Home) Glasgow, Scotland
Female mining executive office and home in Australia. Created five oversized sculptural building blocks spelling her daughter's name.
Fourty-two paintings for a palace in Dubai.
A midnight art appointment to sell a painting to a Russian oligarch for his wife's birthday. The timing of the meeting was in order to get it on his executive jet first thing in the morning.